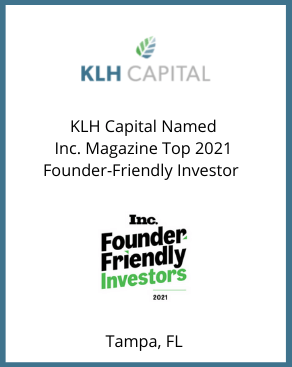 KLH Capital is honored to receive the Inc. Magazine Founder-Friendly Investors award for 2021. The award recognizes the top 146 firms that entrepreneurs, management teams, and families have been able to partner with to solve liquidity and succession-planning needs as well as work collaboratively and respectfully to build great businesses.
"Supporting an entrepreneur's vision and driving growth is more than just a financial investment. It's about building a relationship and supporting the founders beyond that initial year. These private equity firms treat the founders like partners," says Scott Omelianuk, Editor-In-Chief of Inc. Media.
KLH respects the legacies that entrepreneurs have built and the personnel they have trained and mentored. We seek to continue building on those successes, recognizing that our partners best understand how to run their businesses.
In the end, every investment's success rests on the people involved. This is why we seek and foster healthy relationships based on trust and respect, allowing us to leverage our partner's strengths and complement their weaknesses to build value in the most efficient manner possible.