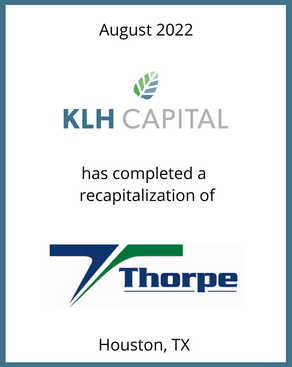 Tampa, FL – August 2022 – KLH Capital ("KLH") is pleased to announce it has partnered with the management team of Thorpe Specialty Services ("Thorpe" or the "Company") to complete a recapitalization of the business. Based in Houston, TX, and established over 65 years ago, Thorpe is a leading North American provider of critical industrial maintenance services focused on refractory, corrosion, and scaffolding & insulation services to the chemical, petrochemical, power, natural resources (lime), pulp & paper, metals & mining, and other industrial and infrastructure end markets across the United States and Canada.
With more than 1,250 skilled employees and a top-tier safety record, the Company leverages its engineering capabilities to be a trusted provider of reoccurring specialty services related to the maintenance of critical infrastructure assets operating in high-temperature, high-abrasive, and highly corrosive environments.
"Picking a partner who shares a growth-oriented culture was critical for me and my team, and we are excited to springboard Thorpe into the future," said Chad Fletcher, CEO of Thorpe. "Thorpe and KLH share a passion for the privileged role we both play as trusted partners - Thorpe as a maintenance planning and solutions expert who our key clients expect to sit at the planning table and KLH as not only a financial resource, but as an experienced business owner, who I genuinely like, who adds value to developing the future prospects of companies in whom they partner with."
"We are thrilled to welcome Chad and the entire Thorpe team into the KLH family. The Company and management team have done a fantastic job positioning itself to capitalize on the tremendous set of opportunities before it, and we are eager to support Thorpe and its employees as we continue to build upon their vision," said James Darnell, Partner at KLH Capital. "We are honored to join Thorpe as true partners as they continue to scale rapidly."
Chad and the senior leadership team will be shareholders in the new partnership with KLH.
For more information about this transaction, please contact James Darnell ([email protected]).
ABOUT KLH CAPITAL
Founded in 2005, KLH Capital is a private equity firm serving family- and founder-owned, lower middle-market companies in the specialty services, value-added distribution, and niche manufacturing industries. The firm makes majority and minority equity investments in U.S.-based businesses to support the company's growth plans, provide ownership opportunities for key managers, and allow owners to harvest the value in their businesses.
Our commitment goes beyond financial support as we believe in establishing a collaborative team of peers, all of whom have a hand in the company's progress. When we combine management's industry and operational expertise with our own, the company's full potential is unlocked and value is created.
Since its founding, KLH Capital has raised $520 million. For more on our investment approach, please visit our website: www.klhcapital.com.