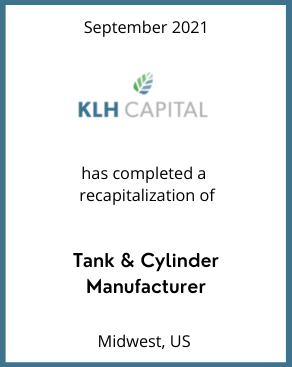 Tampa, FL – September 2021 – KLH Capital ("KLH") is pleased to announce that it has invested in a precision tank & cylinder manufacturer ("Company") to facilitate a recapitalization of the business.
Based in the Midwest, the Company is a manufacturer of aluminum and composite-wrapped cylinders, tanks, and other components sold to top tier OEM customers in the consumer, defense, industrial, medical, and sporting goods industries.
"The guys have built a phenomenal business, going far beyond just manufacturing, through its supply chain management services. Their growth is a true testament to the vision of the team" said Chris Hart, Partner at KLH Capital. "Management has done a terrific job shaping the Company for continued success, and we look forward to providing the resources to support them as they take the Company to the next level."
"It was clear from our first conversation with KLH that they shared a knowledge of our business that elevated them from others who had approached us previously. We have one goal; growth, and that requires a certain type of partner," explained the CEO of the Company.
This transaction represents the fifth investment in KLH Capital's fourth fund which raised $200mm to help founders, managers, and families solve succession planning and build great companies.
For more information about this transaction, please contact Chris Hart ([email protected]).
ABOUT KLH CAPITAL
Founded in 2005, KLH Capital is a private equity firm serving family- and founder-owned, lower-middle-market companies in the specialty services, value-added distribution, and niche manufacturing industries. The firm makes majority and minority equity investments in U.S.-based businesses to support the company's growth plans, provide ownership opportunities for key managers, and allow owners to harvest the value in their businesses.
Our commitment goes beyond financial support as we believe in establishing a collaborative team of peers, all of whom have a hand in the company's progress. When we combine management's industry and operational expertise with our own, the company's full potential is unlocked and value is created.