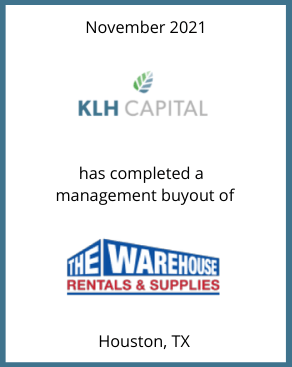 Tampa, FL – November 2021 – KLH Capital ("KLH") is pleased to
announce it has partnered with the management team of The Warehouse Rentals & Supplies ("TWRS" or the "Company") to complete a recapitalization of the business. TWRS, based in Houston, TX, is a leading surface preparation equipment rental and value-added distribution company, offering abrasive blasting, painting, and safety equipment, consumables, and supplies to blue-chip customers in the industrial, commercial, infrastructure, transportation, and energy industries.
With strategically located branches in the Mid-Atlantic, Midwest,
and across the Gulf Coast, TWRS has cultivated top-tier relationships with the industry's highest quality equipment and supplies vendors, and the Company's OEM-certified technicians deliver quick response on-site repair services.
"The additional resources and support of KLH and our long-time industry experience will allow our Company to properly capture the growth it is experiencing now. We are building a national platform to serve our customers with the highest quality equipment and service," said Scot Cummins, President of the Company. "Not only was I looking for the right blend of culture and experience, I was looking for a partner who understood my goal of buying and growing the Company."
"Scot and his team have done a fantastic job positioning the Company to capitalize on these vast opportunities in front of them, and we are excited to support the Company as it continues to scale," said James Darnell, Partner at KLH Capital. "We look forward to working with the entire TWRS team to build upon the Company's legacy and accelerate growth."
Scot and the senior leadership team will be shareholders in the new partnership with KLH. The transaction was financed together with Salem Investment Partners and Comerica.
For more information about this transaction, please contact James Darnell (jdarnell@klhcapital.com).
ABOUT KLH CAPITAL
Founded in 2005, KLH Capital is a private equity firm serving family- and founder-owned, lower
middle-market companies in the specialty services, value-added distribution, and niche
manufacturing industries. The firm makes majority and minority equity investments in U.S.-based
businesses to support the company's growth plans, provide ownership opportunities for key
managers, and allow owners to harvest the value in their businesses.
Our commitment goes beyond financial support as we believe in establishing a collaborative team
of peers, all of whom have a hand in the company's progress. When we combine management's
industry and operational expertise with our own, the company's full potential is unlocked and value
is created.