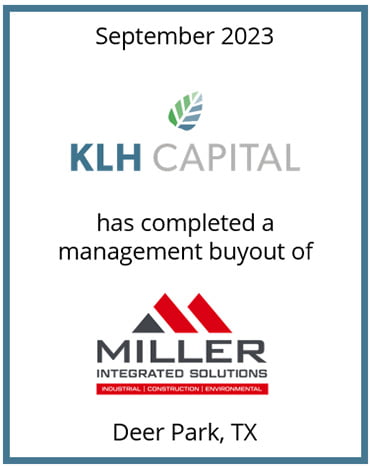 Tampa, FL – September – KLH Capital ("KLH") is pleased to announce that it has partnered with the management team of Miller Integrated Solutions ("Miller" or the "Company") to complete a management buyout of the Company. Established in 1985 and based in Deer Park, TX, Miller is a leading industrial cleaning, environmental, and mechanical services company. MJ Olsson, CEO of Miller, leveraged her experience from both industrial cleaning and mechanical organizations to develop integrated solutions for blue-chip customers within the refining, petrochemical, chemical & agrochemical, utilities & energy, storage terminal, and other general industrial end markets. Miller can build, clean, and demolish equipment and structures, as well as support any environmental needs throughout the lifecycle of its customers.
With six strategically located facilities across its Gulf Coast footprint, Miller leverages its 400+ field-based crewmembers to support 100+ MSAs across multiple recurring, maintenance-driven, service disciplines including tank cleaning, unmanned hydroblasting, vacuum truck services,
spill cleanup, air mover & hydro excavation, chemical cleaning, vapor control, rubber lining & coating services, field specialty welding, and mechanical maintenance. The Miller approach is to work directly with customers to formulate strategic, customized solutions utilizing the Company's extensive service offerings.
"It was clear from the beginning conversations that KLH understands our business, has demonstrated an ability to roll up their sleeves and add real value, and shares in our mission of delivering high integrity, hard work, and a growth-oriented culture. Our customers depend on Miller to complete our work safely and correctly and this partnership ensures that we can meet the growing demands of both existing and prospective customers," said MJ Olsson.
"We are thrilled to welcome MJ and the entire Miller team into the KLH family. The Company and management team have done a fantastic job positioning itself to capitalize on the tremendous amount of ongoing maintenance needs within these industrial plants and we are eager to support Miller and its employees as we continue to build upon their vision and momentum," said Will Dowden, Managing Partner at KLH Capital.
Miller is the latest investment in KLH Capital Fund V, L.P. which raised $400 million in June 2023 to help founders, managers, and families create liquidity, solve succession planning, and build great companies. Half of KLH's current portfolio is made up of crew-based, industrial service businesses, giving KLH extensive knowledge to be a value-added partner to the Company's leadership team.
MJ Olsson and the senior leadership team will be shareholders in the new partnership with KLH.
For more information about this transaction, please contact Will Dowden (wdowden@klhcapital.com).