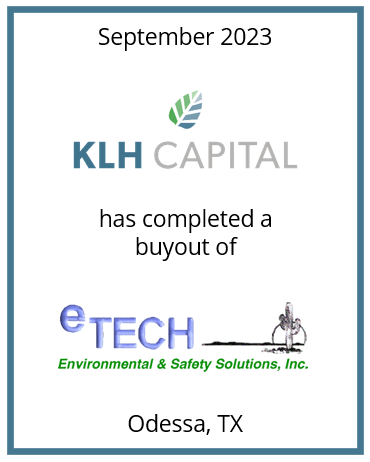 KLH Capital ("KLH") is pleased to announce that it has partnered with the management team of eTech Environmental & Safety Solutions, Inc. ("eTech" or the "Company") to complete a buyout of the Company.  Based in Odessa, TX, and established in 2003, eTech is a leading environmental remediation business providing regulatory mandated environmental consulting, soil sampling & testing, remediation, waste management, and long-term compliance services to a large base of blue-chip customers in the upstream, midstream, government, and industrial end markets throughout the Permian Basin.
With over 125 skilled environmental technicians and professionals in the field, a top-tier safety record, and a robust portfolio of MSAs, the Company's services allow them to work in a diverse array of environmental disciplines including soil and groundwater testing, remediation, asbestos, mold and lead consulting, federal and state permitting assistance, and a broad range of compliance support.
The partnership with KLH will enable the Company to accelerate its growth and continue to expand its service offerings throughout the United States. "eTech is a classic example of a crew-based field services business model that KLH excels in growing and working with. Beyond its core business model, what we love about eTech is the small dollar nature of its day-in, day-out job scope and the vast amount of organic revenue opportunities that exist. The Company enjoys working alongside Class A customers and is beautifully positioned to continue to monetize opportunity and broaden its geographic footprint within a heavily regulated industry," said James Darnell, Managing Partner at KLH Capital.
"I am excited for the opportunity that this partnership will provide for our employees and their families, our customers, and our niche industry. We're blessed to be growing quickly and have an incredible amount of growth opportunity at our fingertips and needed a financial partner who will assist eTech in harnessing our potential," said Shane Estep, CEO. Brandon Wilson, COO, added "With KLH's operational team and their expertise within our type of business, we will be able to increase our capacity, grow our footprint, and broaden our services for our customers."
The senior leadership team will be shareholders in the new partnership with KLH.
For more information about this transaction, please contact James Darnell ([email protected]).