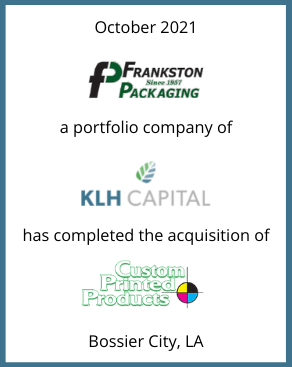 Frankston, TX – October 2021 – Frankston Packaging ("Frankston" or the "Company") is pleased to announce the acquisition of Custom Printed Products ("Custom"), a leading manufacturer of flexible packaging and specialty labels sold to food & ingredient, lubricant, and chemical customers in North America. The acquisition broadens Frankston's product offering and adds new customers further diversifying revenues.
Based in Bossier City, LA, co-founders Robert Waddell and Richard Nicholson established Custom as a leader in the printing, labeling, and packaging industry over its five-decade history by manufacturing flexible packaging, specialty in-mold and injection mold labels, food grade inserts, and pressure sensitive labels.
"Custom's capabilities, tenured staff, and reputation for top quality product are a perfect fit to continue our goal of providing the highest caliber product and service to our customers, and we are thrilled to welcome Glenn, Jennifer, and the team to our Frankston family," stated Kyle Eldred, CEO of Frankston. "The acquisition broadens our product offering, provides additional throughput and capacity, and takes our business into new end markets that we were not previously servicing."
Glenn McCollister, Head of Operations, and Jennifer O'Quinn, Head of Consumer Relationships & Estimating shared "we are extremely pleased to join forces with the Frankston team. Frankston has a similar drive to offer the absolute best-in-class product and service and we are excited to be able to offer additional products to our customers."
In November of 2019, KLH Capital partnered with Frankston's management team to recapitalize the business and continue the growth path of the Company. James Darnell, Partner at KLH Capital, added, "the acquisition of Custom transforms Frankston's product offering and brings the Company into several new end markets."
Kyle Eldred added, "our partnership with KLH has been instrumental in helping us build our organization and they were especially valuable in evaluating and completing this transaction. We are grateful to have them as partners and continue to enjoy the growth that we, together, have created." One third of KLH's current portfolio is made up of niche manufacturers, giving KLH extensive knowledge to be a value-added partner to Frankston's leadership team.
For more information about this transaction, please contact James Darnell ([email protected])
ABOUT KLH CAPITAL
Founded in 2005, KLH Capital is a private equity firm serving family- and founder-owned, lower-middle-market companies in the specialty services, value-added distribution, and niche manufacturing industries. The firm makes majority and minority equity investments in U.S.-based businesses to support the company's growth plans, provide ownership opportunities for key managers, and allow owners to harvest the value in their businesses.
Our commitment goes beyond financial support as we believe in establishing a collaborative team of peers, all of whom have a hand in the company's progress. When we combine management's industry and operational expertise with our own, the company's full potential is unlocked and value is created.