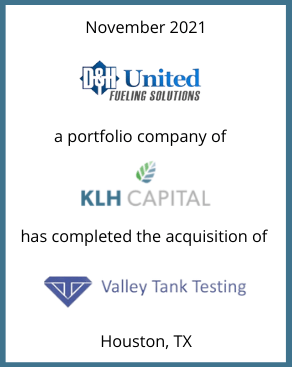 Houston, TX – November 2021 – D&H United Fueling Solutions ("D&H United" or the "Company"), a leading supplier of fuel system equipment, installation, and services in the Southwest, announced that it has acquired Valley Tank Testing ("VTT") of Houston, TX. The acquisition broadens D&H United's compliance services offerings while providing VTT with additional repair and project services capabilities.
Valley Tank Testing was founded in 2004 by PJ Kane and Brian Berkle, both of whom, have many years of environmental compliance experience. VTT has grown to provide a complete suite of Underground Storage Tank and Above Ground Tank system testing, compliance, and inspection services from Florida to Arizona and in over 30 states across the country.
Bo Sasnett, CEO of D&H United, stated, "We are excited to welcome Brian Berkle, PJ Kane and the entire Valley Tank Testing team to the D&H United family. This is a transformative acquisition that allows us to offer turnkey services that ensure maximum uptime and regulatory compliance for fuel site customers. The Valley Tank Testing team is customer centric and has done a great job of growing the company and the services that they provide. We look forward to providing the resources that will support their continued growth and customer care."
Valley Tank Testing Co-founder, PJ Kane, added, "This is an exciting time for Valley Tank Testing, the beginning of a truly synergistic partnership with D&H United. We will be continuing our growth with even more support and resources for our customers." Brian Berkle, Valley Tank Testing Co-founder added, "We are excited to join forces with the D&H United team. This is the next step in our evolution to meet our customers' growth needs."
In February 2020, KLH Capital partnered with D&H United's management team to recapitalize and continue the growth path of the Company. "VTT's knowledge base and expertise in underground infrastructure compliance and testing are key value-added services for our customers. The acquisition of VTT broadens the Company's compliance services business and delivers on the Company's vision of providing turnkey services for its customers" said James Darnell, Partner at KLH Capital.
For more information about this transaction, please contact James Darnell (jdarnell@klhcapital.com).
ABOUT D&H UNITED FUELING SOLUTIONS
D&H United Fueling Solutions is a leading supplier of fuel system equipment, installation, and service in the Southwest. The Company has 400 employees and is an authorized distributor and service provider for Gilbarco Veeder-Root as well as other major equipment brands.
ABOUT VALLEY TANK TESTING
Valley Tank Testing was established in January of 2004 by a management team with many years of experience in environmental compliance and complex maintenance. The company has maintained strong, steady growth in both coverage and capability. The company now covers UST/AST system testing, maintenance, and repairs in over 30 states for a diverse and expanding customer base.
ABOUT KLH CAPITAL
Founded in 2005, KLH Capital is a private equity firm serving family- and founder-owned, lower middle-market companies in the specialty services, value-added distribution, and niche manufacturing industries. The firm makes majority and minority equity investments in U.S.-based businesses to support the company's growth plans, provide ownership opportunities for key managers, and allow owners to harvest the value in their businesses.
Our commitment goes beyond financial support as we believe in establishing a collaborative team of peers, all of whom have a hand in the company's progress. When we combine management's industry and operational expertise with our own, the company's full potential is unlocked and value is created.