KLH Capital is pleased to announce that it has partnered with the management of Atchafalaya Measurement, Inc. ("AMI") to complete a management buyout of the business.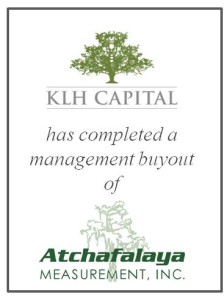 Atchafalaya Measurement, based in Scott, LA, is a multi-basin Oil & Gas Services company providing customized measurement systems to onshore and offshore drilling operations in many of the fastest growing drilling regions in the United States. AMI has exhibited substantial growth, as its management team has strategically targeted high-growth regions of drilling activity and developed a reputation as a premier service provider in its industry. The transaction provides the management team with a value-added partnership committed to continued expansion and growth within the Oil & Gas Services sector.
"Our company is growing very rapidly and has a number of exciting opportunities ahead of us. As a Management team, it was important to us to find a partner that had a lot of experience working with high growth companies, but that also understood the challenges and opportunities of a business like ours," said Nick Trahan, President. "KLH has been great to work with and we look forward a to a long and fruitful partnership."
Hill Ward Henderson served as legal counsel to KLH in the transaction.