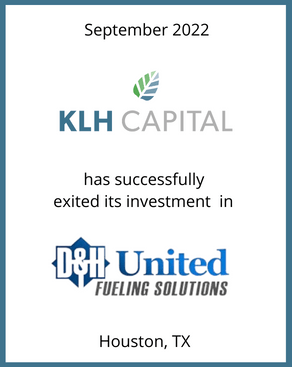 Tampa, FL – September 2022 – KLH Capital ("KLH"), an industrials-focused lower-middle market private equity firm, is pleased to announce that it has successfully exited its investment in D&H United Fueling Solutions ("D&H United" or the "Company") to Wind Point Partners. Based in Houston, TX, D&H United is a leading provider of petroleum fueling and electric vehicle charging system service, equipment, and installation in the Southwest United States.
Since the Company partnered with KLH in February of 2020, the Company has grown from seven to 16 branch offices, expanded its employee base from 217 to more than 570 employees, tripled its revenue base and quadrupled its profitability, and began providing critical compliance testing for tanks and lines in 25 states through its Valley Tank Testing subsidiary. "It was a sincere pleasure working with Bo and his team to achieve their vision and we couldn't be happier for the Company. Throughout our partnership, the Company has grown significantly, allowing it to expand the technician base, broaden the scope of services & products, and grow its branch locations into other core regions of the US," said James Darnell, Partner at KLH Capital. "Our investment in D&H United is a fantastic example of how KLH's partnership and resources unlocks value for owners and management teams alike. We're thrilled for the entire team as they start a new chapter and continue building upon the Company's position as a leader in the retail fuel services industry."
"Choosing the right partner for the Company and our team was the most important decision I had to make. We were looking for more than just money and KLH delivered. James and the KLH team invested tremendously in our development, helping to enhance our internal operations and strategy, onboarding the right hires even when our market was down in 2020, and providing the technical resources that we needed to capture the growth that we knew was available," stated Bo Sasnett, CEO of D&H United. "We are forever grateful for the trust and commitment to D&H United and are excited to continue our trajectory through a new partnership with Wind Point."
D&H United is a leading provider of both petroleum fueling and electric vehicle charging system service, equipment, and installation. D&H United is an authorized distributor and service provider for Gilbarco Veeder-Root as well as other major equipment brands in the space.
For more information about this transaction, please contact James Darnell (jdarnell@klhcapital.com).
ABOUT KLH CAPITAL
Founded in 2005, KLH Capital is a private equity firm serving family- and founder-owned, lower-middle market companies in the specialty services, value-added distribution, and niche manufacturing industries. The firm makes majority and minority equity investments in U.S.-based businesses to support the company's growth plans, provide ownership opportunities for key managers, and allow owners to harvest the value in their businesses.
Our commitment goes beyond financial support as we believe in establishing a collaborative team of peers, all of whom have a hand in the company's progress. When we combine management's industry and operational expertise with our own, the company's full potential is unlocked and value is created.
Since its founding, KLH Capital has raised $520 million. For more on our investment approach, please visit our website: www.klhcapital.com.