"I needed to protect the asset I had spent 35 years building." – Hal Kersey, CEO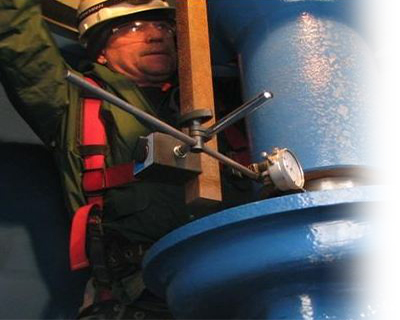 An experienced MidState mechanic services a pump.

"My family founded Mid-State in 1975 as a custom machining and fabricating shop servicing primarily the mining/chemical, power and other heavy industry markets.  The business grew consistently and over time we diversified our service offerings to include general mechanical, pump and industrial projects, and maintenance services.  Our operations and customer service levels were always key focus areas.   As a result, we grew rapidly throughout the 2000s.  As we grew, I was the company's chief source of financing providing the capital it required through personal loans and guarantees.  I oversaw almost every aspect of the company with a large number of direct reports."
The Wake Up Call
"I was involved in a serious car wreck that caused me to reflect upon the far reaching issues had I not survived.  I didn't have a management team prepared to take over and my family would be left to figure out the company's future.   They would also face significant estate taxes.   Our financial systems were outdated making it difficult for anyone, internal or external, to analyze the business quickly enough to advise them on the best course of action.
I was also very concerned for our clients and employees.  We have some very large customers that depend on us every day, and we are responsible for over 500 employees.  I needed to address the issue of succession planning head-on for the sake of my family, employees and clients. As a result, I scheduled a meeting with an investment banking group to help me find a partner.  They explained how a recapitalization transaction would allow me to create liquidity and diversification for my family and, perhaps more importantly, provide the business support and guidance the company needed to ensure its longevity."
Understanding, experience and commitment
"Ultimately, I selected the team at KLH Capital because of their keen business sense, genuine concern for my position and confidence in the path forward.  They were also very thoughtful around the structure of the deal and how best to provide liquidity to my family in a tax efficient manner. Additionally, the KLH team was very sensitive to maintaining the management team for continuation of the company. The deal structure also addressed the challenges we had in determining the historical profitability and capital needs of the business, both of which were difficult to determine as a result of inadequacies in the accounting infrastructure.
KLH went right to work as soon as the transaction closed.  In fact, together we successfully recruited a Chief Financial Officer while KLH was still conducting their diligence and he joined our company a week before closing.  Since partnering with KLH, we have continued to develop our long-term organizational chart, implemented new financial reporting systems and we are now positioned to make acquisitions and execute growth outside of our core region and customer base.  KLH has been a true partner in every sense of the word, guiding us as we elevated our business practices.  Bringing KLH on board ensured the company's future for our employees and clients while addressing my family's financial well-being and for that I am extremely grateful."
– Hal Kersey, CEO, Mid-State Machine and Fabricating
Primary contact for this investment