KLH Capital Infuses More Than Money Into Your Business
KLH exists as a platform to help companies and entrepreneurs reach higher levels of success and prosperity.
We do this by making an equity investment in your business and partnering with you to strengthen the company's market position and grow its value.
In every partnership, management has control of day-to-day operations, meaningful equity in the business and unfettered access to us and our vast network of expert relationships accrued over our more than 30 years in business.
With KLH as your partner, you also have access to the broader capital markets without personal guarantees or risk to personal assets.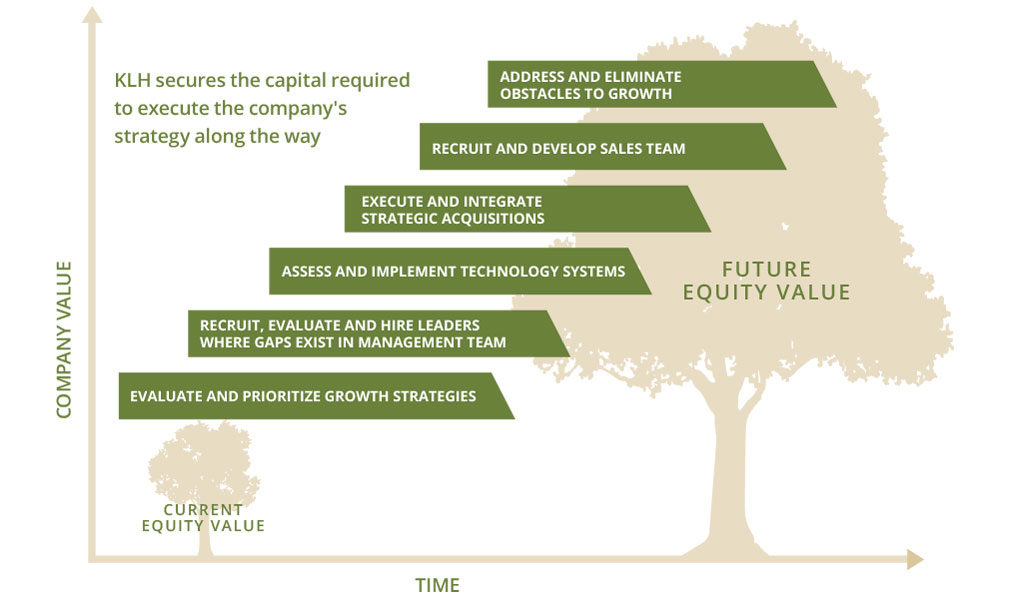 KLH WORKS IN CONCERT WITH MANAGEMENT OVER 4-7 YEARS TO STRENGTHEN THE COMPANY'S MARKET POSITION AND GROW ITS VALUE.
We provide business owners and entrepreneurs with capital and customized solutions that address their specific goals. Which situation best describes you?
MANAGEMENT BUYOUTS
We believe that a company is only as strong as its management team. That's why we strive to partner with passionate, relentless, and ethical management teams who want to maintain or acquire a significant equity position in their business. We offer significant ownership and equity incentives to the management team to wholly engage them in the company's future progress. 
RECAPITALIZATIONS
We make an investment in your business, providing liquidity to diversify your wealth and a commitment to work in concert with you and your management team to develop the company further. When we combine your expertise in the industry and company with our domain experience, the company flourishes.
FAMILY SUCCESSIONS
We help families continue their legacy by facilitating internal sales to future generations. In addition to capital, we commit our strategic support to the next generation as they build upon your family's legacy. We are particularly sensitive to estate planning issues, family business dynamics, and the need for discretion and trust to make these transactions seamless and successful.
GROWTH CAPITAL
We understand that you need alternatives and we have the flexibility to customize our investment to meet your objectives. We make minority investments in growing businesses and support the management team as we would in any other partnership – with strategic advice, acquisition strategies, access to capital and more.